2012 Home Buyer Conversion Report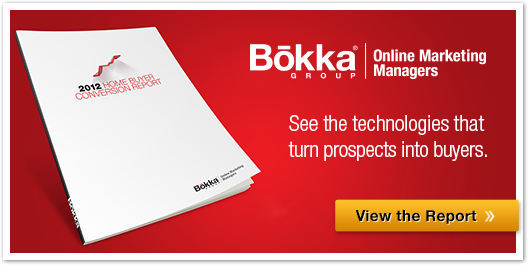 Here is your copy of the 2012 Bokka Group Conversion Report – prepared by the Bokka Group, conducted by the NAHB Research Center.
This is the first study of its kind to find out:

What attracts actual home buyers to a particular builder's web site? (Impression-to-Visitor Conversions)
What web site components influence actual home buyers' decisions to give their personal info? (Visitor-to-Lead Conversions)
What online tools/components influence actual home buyers' decisions to visit a sales center/model home? (Lead-to-Appointment Conversions)
What digital tools within a sales center influence actual home buyers' decision to buy? (Appointment-to-Sale Conversions)
Get exclusive access to the next Conversion Report
Want to help improve the new home buying experience for buyers AND builders? When this happens, prospects are more likely to buy from you as well as refer their friends. We're now accepting builder requests to participate in the next Conversion Study. As a participant, you will receive an advance copy of the report, as well as exclusive insight into the technologies that converted your prospects into buyers.